Skip to Content
Safety & Support Services at Angelus
Angelus Senior Living has a highly qualified team caring for our residents whenever they require physical assistance. We provide a broad range of services when you choose additional levels of care. Some residents may need assistance with daily activities or mobility, and we ensure they have as much help as they require within our RCAC guidelines. To support each resident appropriately, we customize our service plans to meet each of their individual needs. Our community's safety and assistance services ensure residents stay safe and supported at all times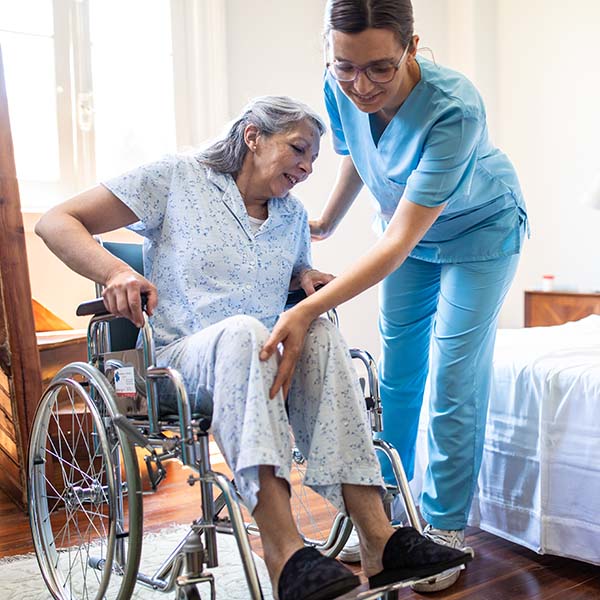 Security & Assistance
Angelus Senior Living puts our residents' and their families' minds at ease as our highly trained staff provides assistance whenever they require it through our call pendant system. Our security and assistance program are factors residents AND families can appreciate. Residents can rely on our care providers to assist them 24 hours a day by in-house staff, with whatever issues they have, personal or emergent. Angelus also has a video monitoring system for common areas and the exterior of the building. While our outside doors lock at 9:00 pm to provide an extra level of safety, residents can receive visitors or exit/enter after that time by notifying one of our care team members.
Caring for Physical, Mental, & Social Health
At Angelus, we encourage and support our residents in maintaining their active lifestyles while ready to step in with assistance when they require it. An important method to staying mentally sharp and alert is through social interaction and engagement in creative activities. Angelus has ample opportunity for residents to converse and laugh every day throughout the community. The dining room is a social hub for our residents, and residents can also participate in a wide array of activity options in our social event areas. At Angelus, we believe in caring for the whole person; physical, mental, emotional, and social.
Angelus… Where Love and Caring, Just Is!
Angelus Senior Living is a place for seniors to make a home and take advantage of outstanding views, caring staff, and all-inclusive amenities at competitive rates. We put our residents' safety, comfort, happiness, and well-being at the forefront of our care. At Angelus, we strive to serve those who choose Angelus with care, compassion, respect, and dignity.
Contact Angelus Senior Living for More Information