Skip to Content
Our Story
Angelus Senior Living was founded by Vince Cassiani. The name Angelus comes from the first name of his mother. Croce de Angelus was her full name and means Cross of the Angels. A son honored his beloved Mother by creating a company that would provide older adults a loving and caring environment in which to live during their retirement years and beyond. His sentiments are from the heart, they are echoed by the staff and reflected in our Angelus Community.
Angelus Senior Living provides our residents with all-inclusive amenities, scenic views, ample social opportunities, and outings, as well as professional, caring support and assistance at an affordable, competitive price. We are a comprehensive Residential Care Apartment Complex (RCAC) specializing in assisted living for seniors with a goal to improve and maintain each resident's quality of life and independence. Angelus leadership has over 40 years of healthcare experience, and our caregivers understand your loved one deserves compassion and caring.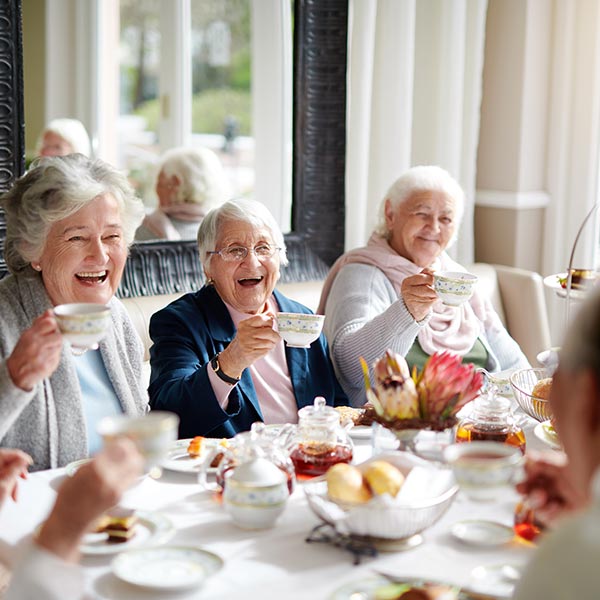 Designed to Enjoy Life
Angelus Senior Living considers security and support services an essential part of managing a senior assisted living community, but we also appreciate the importance of seniors' social health and happiness. Whether enjoying the morning paper, coffee with friends or a leisurely chat after dinner our well-appointed dining room, where our residents are served three delicious meals a day, is the social hub of our community. Other hot spots for interaction include the grand foyer, our social event area, and the Community room on the second floor, where we have morning movement activities, bingo, and crafting and where residents can invite friends and family for special occasions. We also have the River View room, the theatre/chapel, the library, and our Underwood Observatory with excellent views of Lake Michigan and the SS Badger voyages.
A Place to Make Memories
Angelus Senior Living offers seniors various benefits to their twilight living, from beautiful lakefront views to a Friday afternoon happy hour. Our goal is to provide a home where residents enjoy their daily lives and stay as active and independent as they choose. They also have the comfort of knowing assistance is always available.
Contact Angelus Senior Living for More Information